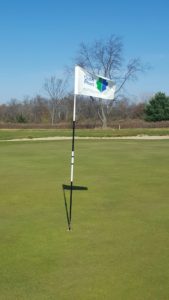 The Oak Run Public Golf Course is a beautiful 18 hole course with well-defined fairways. The course has several ponds and a small lake that add to its beauty. In addition, there are three sets of tees to fit any level of play. The large, well-kept greens will test your putting skills.
Brett Horton, PGA Golf Professional, is the resident pro who has 30 years of teaching experience. Mr. Horton offers his expertise to golfers of all skill levels, whether you are a beginner or a seasoned golfer. You will find that his friendly approach to teaching will put you at ease. Golf lessons are $25.00 per half hour lesson and are by appointment only.
Further, you can enjoy browsing in the well-stocked Pro Shop. The Pro Shop's prices are very competitive. The courteous, well-trained staff stand ready to serve your needs. For more information about Oak Run Public Golf Course, check out the golf course's Facebook page.
GREENS FEES AND CART RENTAL FEES:
DAILY GREENS FEE WITH CART – 18 HOLES
Before 3:00 p.m. $32.00
After 3:00 p.m. $25.00
WALKING 18 HOLES ANY TIME OF DAY
Seven Days a Week, Any Time $20.00
9 HOLE RATES
Greens Fee & Cart $20.00
Greens Fee $15.00
10 ROUND PUNCH CARD RATES
Greens Fee & Cart $275.00
Greens Fee $175.00
SEASON MEMBERSHIPS
Single $450.00
Couple $660.00
Additional Qualified Family Member (Per Person) $240.00
Junior Membership (Senior in High School or Younger) $130.00
SEASON CART RENTAL (03/15/18 – 11/15/18)
Single $475.00
Additional Family Member $200.00
PRIVATE CART TRAIL FEE (50 Maximum)
Single Cart $375.00
Couple Cart $525.00
Cart Storage Fee (Shed) $160.00
Electric surcharge (Per Cart) $70.00
DEFINITIONS
Single – One person, married or unmarried.
Additional Family Member – Any dependent child, who is a full-time student; up to and including the age of 23.