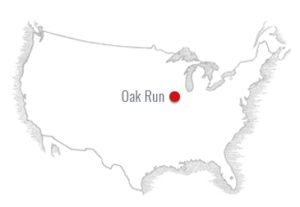 Oak Run is a private, residential community surrounding the beautiful Spoon Lake. With 600 acres of lake water and 19 miles of shoreline, our community offers many recreational opportunities. Members enjoy fishing, boating and water sports such as water skiing, tubing and wakeboarding. Other amenities include:
18-hole championship golf course
restaurant
convenience store with gas station
swimming pool
2 beaches
2 boat launch areas
3 playgrounds
4 parks
campground
Do you want to enjoy all that Oak Run has to offer? Oak Run's real estate market is unique and has something for everyone! From vacant lots to homes offshore or directly on the lake, you can be sure to find a property to fit your desires and your budget. To find out more about how you can become an Oak Run member, contact us today!
Oak Run is located in the heart of west central Illinois in Knox County. Our community is close to several larger cities including Galesburg (15 miles), Peoria (45 miles), the Quad Cities (70 miles) and the Chicagoland area (180 miles).